SPECIFICATIONS FOR THE GEEKS
 Pen Color
Blue
 Material
Acrylic
 Weight
36g
 Length
13.8

 

cm
 Glue Included
NO
Embroidery Accessories Diamond Painting Pen allows you to add crystals to embellish any sparkling pattern you want. It fills crystal easily in hard or soft surfaces faster with convenience!

Design Guide
Pick up First Rhinestone:

 

dump some of the rhinestones onto a flat surface, hold the tip of your applicator tool over a single rhinestone, and press down on the tool to pick the stone up.

Apply Craft Glue To Object:

 

to transfer it to an object, you'll first need to apply a bit of craft glue (any type) to that object, which could be a shoe, a handbag, or something else.

 Release Rhinestone:

 

holding your applicator tool directly yet gently against the spot, press down on the applicator to release that rhinestone, it'll stick to the glue spot you've applied.

Continue Process:

 

continue the process just described with other rhinestones. It's fine if you want to collect a bunch of rhinestones in your applicator tool and then apply them all at once.

Holds Up To 70 Stones:

 

each applicator tool will hold up to 70 crystals and/or rhinestones in its center section. That means you'll be able to apply up to 70 of these at once.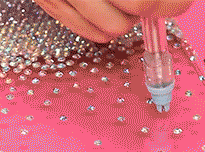 Unlike the traditional way of adding crystal, you don't need to pick up each crystal one at a time by hand to place on the glue areas. It saves your time a lot and patience which might bother your mood!
FEATURES:
Magic Diamond Painting Pen
Gather plenty of diamonds in the pen and start your diamond art 
One push button
Super convenient tool makes your works more fluent and mature!


Avoid messy situation
Compare with simple clip, the painting pen can stick diamond more faster and accurate


High application


Can apply different daily products or decoration
Bring out your creativity
Make your style more special and be the spot light in your friends
SPECIFICATIONS:
Material:

 Acrylic

Weight: 36g
PACKAGE INCLUDES:
1 x Embroidery Accessories Diamond Painting Pen

2000 x Diamonds

You have 3 options to select from.

(1) Our Pen and Diamond Bundle:

1 x Embroidery Accessories Diamond Painting Pen
2000 Pcs Diamond

(2)Pen Only

1 x Embroidery Accessories Diamond Painting Pen

(3)Just the Crystals (If you're out of them)